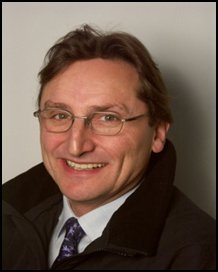 ICOS-D Ecosystem Cluster "PreAlpine "
Kontakt:
Telefon: +49 8821 183 217
E-Mail: rainer.steinbrecher@kit.edu
Adresse:
Kreuzeckbahnstraße 19
82467 Garmisch-Partenkirchen
Personal profile summary
Expert on the analysis of volatile organic compounds (VOC) in air samples and on ecophysiological studies on vegetation , in particular gas exchange on leaf, branch and canopy scale; developer of specific plant enclosures for biogenic VOC emission measurements; designing, testing and approving analytical methods for VOC and N2O measurements in air samples and their quality assurance (QA); VOC emission modelling on leaf, canopy and regional scales; assessing the role of plants for the atmosphere; lecturer at national and international universities; author/co-author and reviewer of research projects and scientific publications; consultant in terms of biogenic VOC and QA of VOC and N2O analysis in ambient air.

Education
1979 – 1985 Studies on Biology and Chemistry at the Universities of Munich (LMU and TUM).
1985 Graduated with thesis on "Investigations on the ecology of water plants in lakes (Osterseen, southern Bavaria, Germany) focussing on Yellow Water Lily (Nuphar lutea FO) for "1. Staatsexamen für höheres Lehramt an Gymnasien" (equ. to MSc) (in German).
1985 – 1989 PhD studies and thesis on the "Content and emission of monoterpenes of tissues from Norway Spruce (Picea abies [L.] Karst.)" (in German).
1989 Graduated as Dr. rer. nat. at the Faculty of Chemistry, Biology and Geo-Sciences at TUM.

Scientific career
1989 – 1990 PostDoc at the TUM and Head of the research group "Terpenes".
1990 - 2004 Research Scientist and head of different departments/working groups at the Fraunhofer Institute of Environmental Research (IFU) which became part of the Institute of Meteorology and Climate Research (IMK) of the Research Centre of Karlsruhe (FZK) in 2002.
2002-2007 Visiting Professor for Biosphere/Atmosphere Sciences in the post graduate program on Earth Sciences of the National University of Mexico (UNAM), Center of Atmospheric Sciences (CCA).
since 2005 Senior Scientist at the Institute of Meteorology and Climate Research, Research Centre Karlsruhe (IMK-IFU), which merged with the University of Karlsruhe in 2009 forming the Karlsruher Institute of Technology (KIT).
since 2007 Joint Lecturer Biosphere/Atmosphere Interaction, at TUM, Chair for Atmospheric Environmental Research.

Special qualifications and awards
Since 1994 Consultant for the UN-Task Force Emission Inventories and Projections (TFEIP) on the topic of "Natural Emissions"
1999 to 2002 Consultant and the Comisión Ambiental Metropolitana of Mexico City (CAM) on "Biogenic volatiles organic compounds" and "Air Quality Modelling".
2002 Co-Chair of the Gordon Conference on 'Biogenic Hydrocarbons and the Atmosphere'.
2005 to 2007 German academic exchange grant for lecturing on the Interaction of Biosphere/Atmosphere at Universidad National Autónoma de México (UNAM), Centro de Ciencias de la Atmósfera (CCA)
since 2005 Head of the World Calibration Centre (WCC) for VOC in the Global Atmospheric Watch (GAW) Program of the World Organisation of Meteorology (WMO) and Co-chair of the Expert Panel on Agriculture and Nature of the TFEIP.
since 2010 Member of the Scientific Advisory Group "Reactive Gases" for WMO-GAW; ; Member of the Gas Analysis Working Group (GAWG) of the Consultative Committee for the Amount of Substance (CCQM) for the International Committee for Weights and Measures (CIPM).
since 2012 Head of the WCC for N2O within WMO-GAW.
since 2013 Nominated representative of WMO Commission of Atmospheric Sciences (CAS) in the Task Team of Quality Management (TT-WQM) of the WMO Integrated Global Observing System (WIGOS).

Other academic activities
Principal investigator, co-investigator or co-ordinator for national and international research projects
Co-editor on the book "Biogenic volatile organic compounds in the atmosphere, ISBN-13: 978-9051031379, SPB Academic Publishing, The Hague, Netherlands, 1997".
Guest-editor on the special issue "Regional biogenic emissions of reactive volatile organic compounds (BVOC) from forests: Process studies, modelling and validation experiments (BEWA2000).
Atmospheric Environment 40, Suppl. 1, 2006".
Reviewer of project proposals for national and international Science Foundation (NSF, NERC, DFG, and Academy of Finland) and peer reviewed scientific journal contributions.
67 ISI publications; h-index 27; Research Gate Score: 26.41 (Status 2013).